Real Time Twitter density in Tahrir Square. Refresh page to see update, click on the Full Screen View to get a full screen version of tool, click See Tweets Around Here to see the last 100 tweets from the area.
Embedded code
<iframe height="450" src="http://happan.in/m/?lng=31.23460292816162&lat=30.046287454189482" width="400"></iframe>
Graph above shows tweets and trend line for 4 days before 10 PM December 11 2012. We see a clear pattern of rises and falls in a 24 hour cycle.


Graph showing tweets per hour in 1 KM readies in central Cairo around Tahrir Square. Graph shows 2 hours before 1 AM December 11, time period when an attack was reported on the Square. The orange line is the 5 point trending line showing a clear rise in tweets suddenly in the 15 minutes before 1 AM.
UPDATE: December 11, 1 AM Cairo time.
We saw a drop in tweeting about a half hour ago on reports that a group of people had attacked Tahrir Square, now we are getting reports the attack has needed and tweeting and retweeting from in and around the Square has suddenly surged to almost 1,000 geo-tagged tweets an hour in a 250 meter radius.
December 11 at 1 AM: Tweeting levels surge from RTs by Egyptians of reports coming from Tahrir Square itself
Update December 7 2012.
Friday is the new Friday. Many people have noticed that Friday has not been a major day of protests at Tahrir. Its seems the Morsi speech may have changed that. There are massive quantities of tweets coming from around Tahrir Square now.
See more on Tuesday and Fridays in Tahrir
.
Dec 7 2012 9:20 PM and geo-tagged tweeting from Tahrir is over 1.500 tweets an hour in a 250 meter radius area.
Dec 7 2012 8:45 PM and geo-tagged tweeting from Tahrir is over 500 tweets an hour in a 250 meter radius area.
Update December 6 10:20 PM,
Morsi is giving a speech and it is causing tweeting to rise in Tahrir and Cairo.
Over a week of tweeting reading, moving averages and trend line. Click to enlarg
UPDATE: 1:30 PM Cairo time December 6.
We are seeing no sign of a decline in intensity of tweeting coming from central Cairo. We are seeing very 'erratic' movement in the number of tweets per hour coming from the a KM radius of Tahrir. This is partially due to the erratic nature of Egyptian mobile and Internet providers no doubt.
I am looking in to the possibility that the jumps in tweeting indicate periods of intense change in the situation.
We definitely see something that looks like this over the past 24 hours and last week.
UPDATE: 1PM Cairo time December 6.
Despite rumours of a shut off in Internet we are still seeing a lot of tweets coming from central Cairo. But levels are not as high as during recent protests. Actually we have been seeing a pattern of surges on Tuesdays followed by tapering off through the week, with surges agains on Tuesday but this has only been going on few weeks.
Is the internet cut off?? I am at work and we use link and its not working! Any ideas?? #Tahrir #Egypt
— Nermine Amer ★ (@NermineAmer) December 6, 2012
Update: 11:20 PM Cairo time December 5 2012. Reports that the Muslim Brotherhood is mounting attacks near Tahrir are increasing on twitter. We are seeing somewhat subdued levels of tweeting for the evening, that would be in line with a group under physical threat, but I can not confirm that.
@peter_zarief @massouny i am watching live from #tahrir now, everything looks fine
— Feyonka(@YasmineAhamid) December 5, 2012
UPDATE: December 5.
Today we have seen what can only be described as
massive
levels of tweeting with geo-tags related to Tahrir Square. Almost 1,000 tweets an hour at one time is inline with the kind of tweeting you might see in Madrid at a protest with over 100,000 people. Much of this seems to be discussions going on about the removal of tents from
Tahrir Square by members of the Muslim Brotherhood
. From reading translations of tweets around Tahrir it seems clear that a Muslim Brotherhood counter offensive it taking place, unable to stage these levels of protest the Muslim Brother hood is now accusing the Tahrir protestors of immorality and drinking. Its starting to sound all like Occupy Wall Street.
UPDATE Tuesday December 4,
surging tweets this evening not only in Tahrir but near the Presidents Palace where another protest is taking place.
See move extensive analysis here
Real time tweeting near Presidential Palace. Embed code <iframe height="650" src="http://happan.in/m/?lng=31.318631172180176&lat=30.088469796894348
" width="100%"></iframe>
At midnight Dec 4 2012 Tweeting levels in Tahrir square were reaching between 500 and 600 geo-tagged tweets an hour. Given that only about 5% of tweets have geo-locations, and Egypt is a poor country with often inadequate mobile service, that is a lot of people.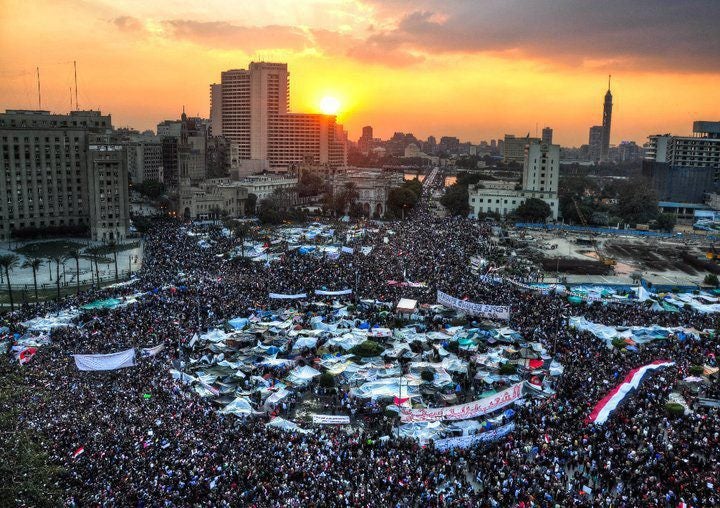 Image from Foursquare of recent protests posted October 21 2012
UPDATE:
Midnight, 31 November,
though we have seen very high tweeting today, we have not seen the same level as this Tuesday, which confirm media reports that the crowd was smaller than Tuesday's mass crowd. Still these are large crowd of social media users.
UPDATE 1PM Cairo time, November 29.
I have developed this analysis of tweeting elves for the central Cairo area. This is one full KM radius around Tahrir Square. With estimates of geo-tagged tweets per hour coming from the twitter public API.
The last 26 hours of tweeting level. Notice that during the day tweets average about 100 to 200 tweets per hour, but we are seeing lots of surges in tweets. The surges are most remarkable.
In this map the blue is for Central Cairo, the red is for Amsterdam. Not surprising that overall Amsterdam produces more tweets, as more people have mobile phones and computers. It is also not surpassing that the levels rise and fall together as they are close time zones. What is remarkable is the spikes in Cairo well above the range of the Amsterdam. So while normally Amsterdam has higher overall tweeting than Cairo, at certain times tweeting in Cairo rises well above Amsterdam. This makes sense because Cairo tweeting is very event driven, with news stories on on the ground even driving tweeting while Amsterdam tweeting is more every day.
UPDATE 2 AM Cairo time, November 28. This picture tells the entire story, showing the tweeting levels in Tahrir Square and London at the same time. Tahrir Square is having many times more tweeting than Soho in London!
Twitter usage in Soho London vs Tahrir Square, midnight GMT. Tahrir is having almost 8 times the twitter activity.
UPDATE: 8 PM Cairo time, we are seeing now tweets surging up to 500 geo-tagged tweets an hour. This indicates a crowd in the 10,000s in a city like Cairo.
UPDATE: 6 PM local time November 27.
The call to evening prayers can be heard on Reuters live streams as a massive cloud of tweets rises above Tahrir. Tweeting surged to over 400 geo-tagged tweets in hour in a massive demonstration.
UPDATE: 3 PM November 27, the crowd continues to build. We have seen some surges in tweets to up to 300 an hour, but so far the levels have returned to the 50 to 100 range.
Tomorrow is a decisive day in the history of Egypt. You can't build a democracy based on a "temporary" dictatorship #Nov27 #Tahrir #Egypt
— Khaled G Bichara (@khaledgb) November 26, 2012
UPDATE: 1 PM November 27, we are starting to see a surge in tweets from the crowd in Tahrir. We could see a crowd coming in from the north over the last half hour as well. Interesting that as the crowd became louder the tweeting level also surged.

UPDATE Noon Tuesday November 27 the crowd is remaining stable, in the hundreds and the tweeting levels reflect that, with only about 50 to 60 geo-tagged tweets an hour.
UPDATE 11:30 Tuesday November 27, we will be tracking to see if the large demonstration planned for today shows up on twitter traffic.
UPDATE: 8:00 PM on November 24 and levels are well below 100 an hour.
UPDATE: 1:10 PM, we are seeing a sudden surge in tweets coming from Tahrir Square.
UPDATE 12:45 PM November 24, twitter indicates a slower start, both levels and content of the hashtag #Tahrir
Second day of #tahrir square. Number of protesters declined a lot only a few hunderd staying in tahrir square. #egyp #cairo #tahrir #nov23
— resistance (@arabresistance) November 24, 2012
UPDATE 12:15 AM November 24, tweeting level from Tahrir Square has been dropping over the past half hour, fro over 500 geo-tagged tweets an hour to just over 150 now.
Update: At 11:45 PM Cairo time we are seeing a major surge in tweeting coming from Tahrir Square.
As November 23rd comes to an end in Egypt we are seeing over 500 geo-tagged tweets an hour being reported by Twitter for a 250 meter radius around the center of Tahrir Square, this is a major stream of tweets. Only about 1 in 20 tweets have a geo-location, so this could mean tens of thousands of tweets an hour are coming from the area.
Slow start to second day of Egypt protests - rightnow.io/breaking-news/… #Tahrir #Cairo #Egypt #Morsi #Nov23 #Mohamedmahmoud via @themuslimsnews
— Right Now I/O Feed (@rightnowio_feed) November 24, 2012
Tahrir Tweeting levels at 11:45 PM November 23rd 2012.
UPDATE: 6:10 PM and there are more than 300 geo-tagged tweets an hour coming from Tahrir Square. These levels are extremely high for Cairo and indicate a large protest including most of the young educated politically active class. 6:15 PM sees the tweets going to 500 in what is clearly a major event.

UPDATE: 6:00 PM Cairo and we are seeing the level of tweets coming from Tahrir continue to rise, we are now near 141 geo-tagged tweets an hour from 250 meters around the center of the Square. Given that only about 5% of tweets are geo-tagged that is a few thousands tweets an hour. Given that Egypt is a poor country where few people have smart phones that is a large crowd, and must contain many of the educated young who help to mobilise the Arab Spring.
Twitter is carrying a number of reports of tear gas being used.
Two years after the start of the Arab Spring things are feeling like old times in Tahrir
. The elevated tweeting levels and the content in the Twitter hashtag
Tahrir
indicate a very large disturbance is taking place in Cairo, perhaps on the scale of early 2011.